Lathes in stock | Immediate Delivery
We are lucky to be able to announce that, in the last few years, demand for CMZ lathes has frequently exceeded expectations and we have been inundated when it comes to supplying those lathes to our customers. Currently, thanks to the CMZ's strong investment in resources, we have machines in stock for immediate delivery at incredible prices.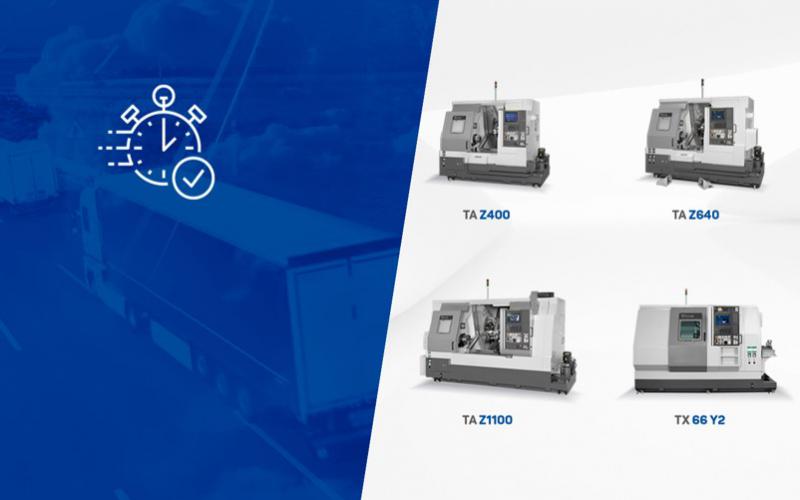 Meeting demand
Over our history, we have delivered thousands of CNC lathes, both nationally and internationally. Our machines have a very good reputation and they are the first option for those who need CNC lathes for machining parts. Our team is made up of over 300 people and we have more than 32,000m2 of premises on which to manufacture our product. Soon we will be seeing new expansions and openings based on the strategic plan that we have drawn up. Thanks to this plan, we will be able to meet the existing demand. We will continue to deliver the best CNC lathes, but within much shorter time frames.
Increase in productivity
Since the opening of CMZ's second assembly plant, Seuner, in 2015, we have diversified our manufacturing. Seuner is fully dedicated to manufacturing the TD Series, whilst in the Zaldibar plant we manufacture the TA and TX series. This has lead to a significant increase in productivity. We are capable of manufacturing a larger number of CNC lathes and, therefore, meeting the existing demand better and faster.
Inundated by the good reception
When we first launched this campaign, we were not expecting such a great reception as the one we got. We have already got a considerable number of machines in stock, and we have many customers who have shown an interest in taking us up on this offer. So much so that the number of available units has decreased dramatically. The fact is that being able to get a CNC lathe from CMZ immediately, without foregoing any of its features, and at a promotional price, is a unique opportunity.
Models available
The CNC lathes in stock for immediate delivery are all of the models from the TA series, and the TX Y2 models from the TX series. All of them are machines that will guarantee you 20 years of precision with a skilled and on-hand after-sales service and an extraordinarily good price - what more could you ask for? If you are looking for lathes in stock for immediate delivery, this could be a unique opportunity. 
CNC lathes in stock
It is the first time in CMZ's history that we have had machines for immediate delivery. This is mainly due to the increase in manufacturing capacity, we make the best and the fastest. The result is a robust, powerful and reliable product that has established us as European CNC lathe manufacturers.
We have been overwhelmed by the impressive response from our customers to this promotion; we can only thank them and encourage those who are thinking of acquiring one of these lathes that we have in stock to make a decision sooner rather than later, because the units are disappearing fast.