CMZ lathes in Bergamo | Tornitura Show 2019
As we have already mentioned in previous posts, we try not to miss any of the events that we deem unmissable when it comes to machine tools. The Tornitura Show has become another important event for presenting our lathes in Bergamo. Since Italy is our biggest market, it has been a very productive and interesting fair.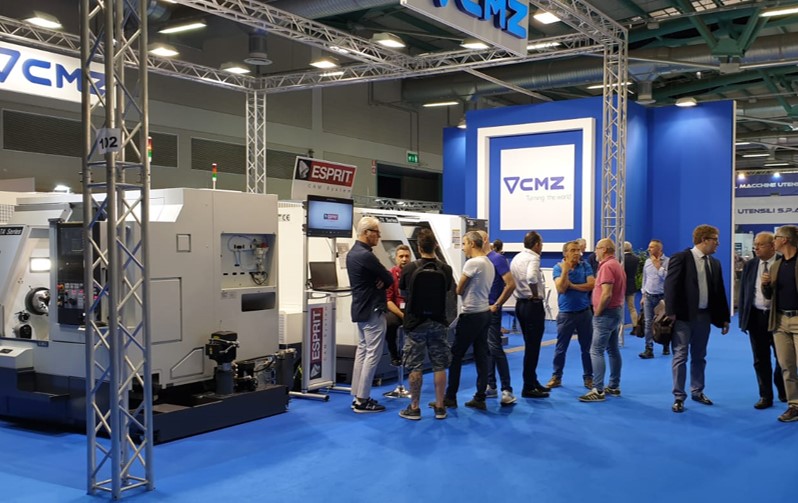 Tornitura Show
The Tornitura Show is a very famous trade fair in Italy. With over 145 exhibitors, 25 industry sectors are represented year after year across over 13,000 square metres of exhibition space. It also has an innovation award. Another aspects that makes this fair appealing for exhibiting our lathes in Bergamo is that it is one of the few fairs that exclusively focuses on lathes. As a result, among the visitors who attend, it is full of potential customers for our product, who are very knowledgeable about our activity.
Our machines
Our stand, in keeping with our corporate identity, displayed machines representing each of our series. All of our lathes have latest generation FANUC digital controls with an iHMI smart graphic interface.
We wanted to tell people about the advantages of the TX Series; our multi-turret machines with prismatic guide were represented by the TX 66Y2, the best option for those seeking high productivity. In addition, with the TA-20 TY we showed off one of our best-selling machines, focused on precision and reliability. Finally, we wanted to shout out to the world that "large does NOT mean slow", with a TD 45 Y 2200 on our stand, a machine that, without a doubt, was one of our big attractions this year.
We'll be back
On our stand at the Tornitura Show, we had many members of our team, led by Alessandro Senzapaura. The people there described the experience as very positive. We took orders, found out about new needs, we were able to put meet face to face with many of our customers and suppliers that we've been working with for a long time and, above all, we left with a good feeling and the satisfaction of a job well done. We are already counting the days until next year's fair. We can't wait to have another opportunity to present our lathes in Bergamo. We'll be back!