Big does not mean slow: Our lathes for machining large parts
Over the years, our family of products has been progressively growing. Currently, the a range of CMZ lathes are capable of responding to the turning needs of each customer. This has been possible thanks to many factors: R&D, investment, the team... Thanks to the TD Z2200-Z3200 Series, our large lathes, we have realised that large does not mean slow. Here, we will tell you how.
Specialisation
If you know anything about CMZ's history, you will know that the third generation took over the reins of the company at a moment when all of the competition were opting for turnkey products. However, the Zumarraga brothers were clear about what they were doing: they focused on a generic product, CNC lathe, and they poured all of their efforts into manufacturing the best ones in Europe. They achieved it. Specialisation was, therefore, the best trump card. Today, our teams continue to train and specialise in order to manufacture a high performance product.
Exclusive plant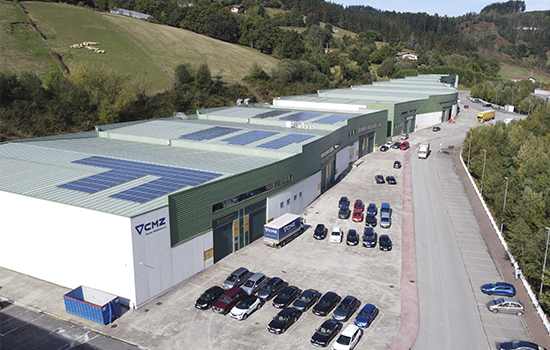 The launch of the TD Z2200-Z3200 has been a watershed moment in our history as manufacturers. And now, as we have decided to boost our range of multi-turret machines with the launch of the TTL, the appearance of the large lathes for large-scale machining was a real milestone for CMZ.
It was the first time we had opted for a product like that; our product, which had always been associated with medium-sized lathes, was moving up a step. It is certainly true that specialisation and the historic knowledge we possessed in manufacturing digital control lathes was an undoubtable advantage. We were certain about one thing – if we wanted to construct powerful and reliable machines, we needed to do it in a very specific environment. That is how SEUNER was born: our second CNC lathe assembly plant.
SEUNER on the inside
SEUNER is an assembly plant that is equipped with the latest advances. It has over 10,000m2 dedicated to manufacturing large-sized lathes. It is an installation that is fully dedicated to large lathes. This brings it several advantages: all of the knowledge and skills are in the same place, we have the equipment in place to satisfy the existing demand and our production capacity has increased significantly. The results after those first years of settling in could not be more positive.
Large does NOT mean slow
People wrongly assume that the fact that a machine is heavy means its performance will be worse. Our lathes for machining large parts are a shining example of the complete opposite. Size and speed are not incompatible with each other.
Our machines use top quality components, which are mostly manufactured in our own factories. On top of that, the technical specifications of the machine speak for themselves:
Integrated motors cooled by oil.
Headstocks with double pneumatic chuck and inner bore with 192 through-hole.
Turret with integrated motor and hydraulic interlocking: 12,000rpm / 105Nm.
This type of machine is in demand from a wide range of customers, although we have seen a significant upturn in demand from companies in sectors such as the oil and gas, aerospace and renewable energy sectors.
For us, it is very motivational being able to reap the fruits of the effort we have put in. Without a doubt, the launch of this range of large lathes has been a very important move. We will continue working to offer a precise, powerful and reliable product with the highest quality standards.