CMZ awarded the Biscay Business Prize 2019 at Confebask's 26th Business and Professional Training Gala
On the 4th December we received an award that we are particularly excited to share, since it is a very special award for us. It is the Biscay Business Prize 2019, which is awarded by Confebask every year at the Business and Professional Training Gala We are more than just proud, we are elated to receive such huge recognition of the work that our human resources department has been doing for a long time.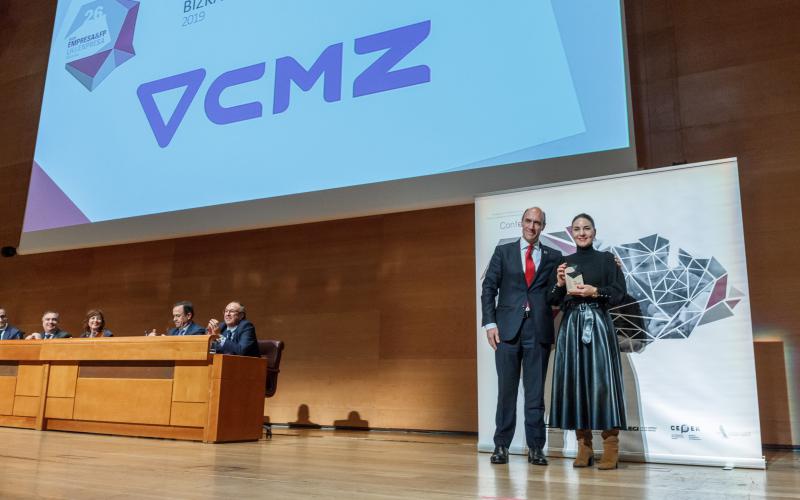 Committed to our youth
The president of Confebask, Eduardo Zubiaurre, during the opening of the gala, paid tribute to the Basque model of Professional Training, highlighting the work that has been carried out over decades in collaboration between the Basque Regional Government, businesses, teachers, professional training centres, instructors and, of course, young people.
Over the last 30 years, more than 250,000 young people have done work experience in over 8,000 companies that collaborate for that purpose. As manufacturers of digital control lathes, we do everything we can to offer students an ideal setting to receive training and develop their professional career. Our commitment to Professional Training is solid, and what's more, for us there are only advantages, since we feel that it is a relationship that benefits and strengthens both parties.
Biscay Business Award 2019
After the official opening of the event, the handing out of the awards to companies and instructors began. Mónica López, the group's selection manager, collected the sought-after award. Excitement, emotion and satisfaction are the words that best describe the feelings of the whole CMZ team, which every day does everything it can to make our Dual Training into something great.
To be recognised as the leading company in the Biscay province when it comes to our commitment to the professional training of our young people is something that doesn't happen every day. It is a prize for all of the people at CMZ who make it possible, to all of the young people who have completed their work experience with us, those who ended up staying with us... for all of those reasons, it is not just any old prize.
After the awards were given out, we were able to hear the testimonies of two former students of professional training. This part of the event was key, since it demonstrated better than anything that the future of employment through professional training is a reality. Afterwards, over 600 diplomas were handed out to those present, who represented the more than 11,000 graduates who completed their training this year.
Past, present and future
After reaching this point, we can only give our thanks. We give thanks to the centres that collaborate with us, to the instructors and teachers, without which none of this is possible, to Confebask for recognising our work and, of course, to the students. They are not just the present of the industry, they are the future. A heartfelt thank you.