CMZ online lathe stock checking system
A few weeks before moment zero, in other words, before the coronavirus appeared in our lives, we were finally launching our online system for new machine stock. We believe, now more than ever, that our new CNC lathes in stock can be a good alternative for those seeking quick delivery at a competitive price.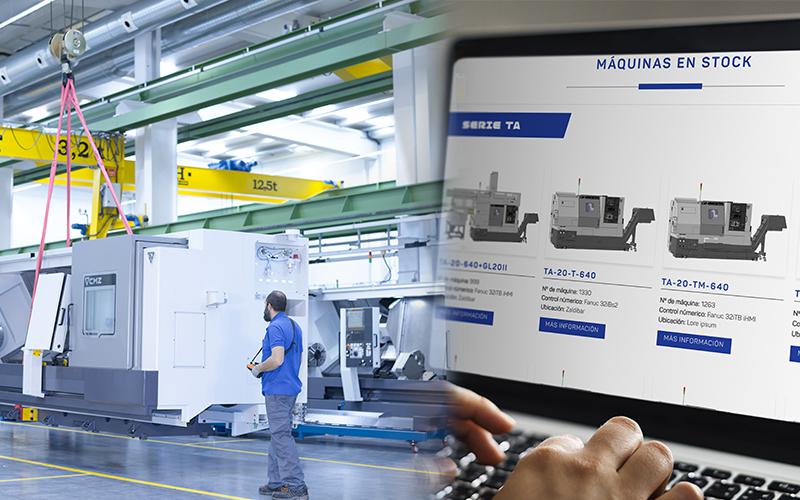 Wide range of CMZ lathes now in stock
Our increased production capacity has allowed us to reserve some of the lathes we manufacture to be kept in stock for quick delivery. This need had been pressing for some time. On occasions, high demand has caused delivery times for the lathes to be longer than we'd like. Due to continuous investment in all areas of our production at CMZ, we are now very competitive with machines available for immediate delivery.
We have worked hard so that our online machine stock system responds to the needs of current and potential customers. For this, we considered it essential that our stock machines section is able to offer models of our entire product portfolio: there is a series of single turret lathes in the TA and TD range, with different bed lengths and a selection of different spindle sizes, sub-spindle or tailstock models, with and without gantry systems, and various machines from the longer bed TD Z2200-Z3200 series, for larger parts.
Furthermore, we have multi-turret lathes available from the TX series, and limited units of our recently launched TTL series in stock.
Check online and find out in real time which configurations are available to suit your requirements, and do not hesitate to contact us for more information.
Lathes in stock online
The section for in-stock machines on our website is the digital showcase for lathes that are available for immediate delivery. The system allows the user to discover the configuration of each machine with just one click. Administration times are fast and communication, like always, is direct and personalised.
Thanks to our increased production capabilities, we are now able to meet market demands in record time. Almost all of our stock machines are essentially ready for immediate delivery, with customer's preferred tool holder and work holding choices to be determined. Currently, there are certain sectors and their auxiliary industries, such as those producing medical components, which have seen a sharp demand for their product. For this, they must be supplied with accurate, powerful machinery that allows them to manufacture at the pace required by the market under the current climate.
Guaranteed machine stock
What you see on the website is the tip of the iceberg. Behind the scenes, there's a leading-edge manufacturing system that allows us to be very swift. Thanks to this, machine stocks are guaranteed. Our commercial network continues to be 100% operational and we are ready to attend to any needs, queries and questions that may arise.
We're #stillturning in our digitalization process. We'll have more news for you soon. Until then, you can visit our machine stock section and check out the latest lathes available and their configurations.