CNC lathes in Germany CMZ at Intec 2019
Intec took place between 5th and 7th February 2019. It is a trade fair that we never miss and anyone who is thinking of buying CNC lathes in Germany has the date marked in their diary as an absolutely unmissable event. With over 1,000 exhibitors and more than 25,000 visitors, it is a very important fair in the manufacturing and machine tooling sector. Our CNC lathes were present in Leipzig for yet another year, and the experience couldn't have been more positive.
Meeting place
As well as being an excellent showcase to advertise our CNC lathes in Germany, Intec is a perfect meeting point for us and our clients, where we can share synergies with businesses like ours and make an impact on potential clients. Year after year, Intec brings together visitors from different parts of Germany: Saxony, Bavaria, Berlin… and many other nationalities too. CMZ Germany got off to a great start in machine tooling trade fairs in Germany and will end the year with another top event, EMO Hanover.
CMZ CNC lathes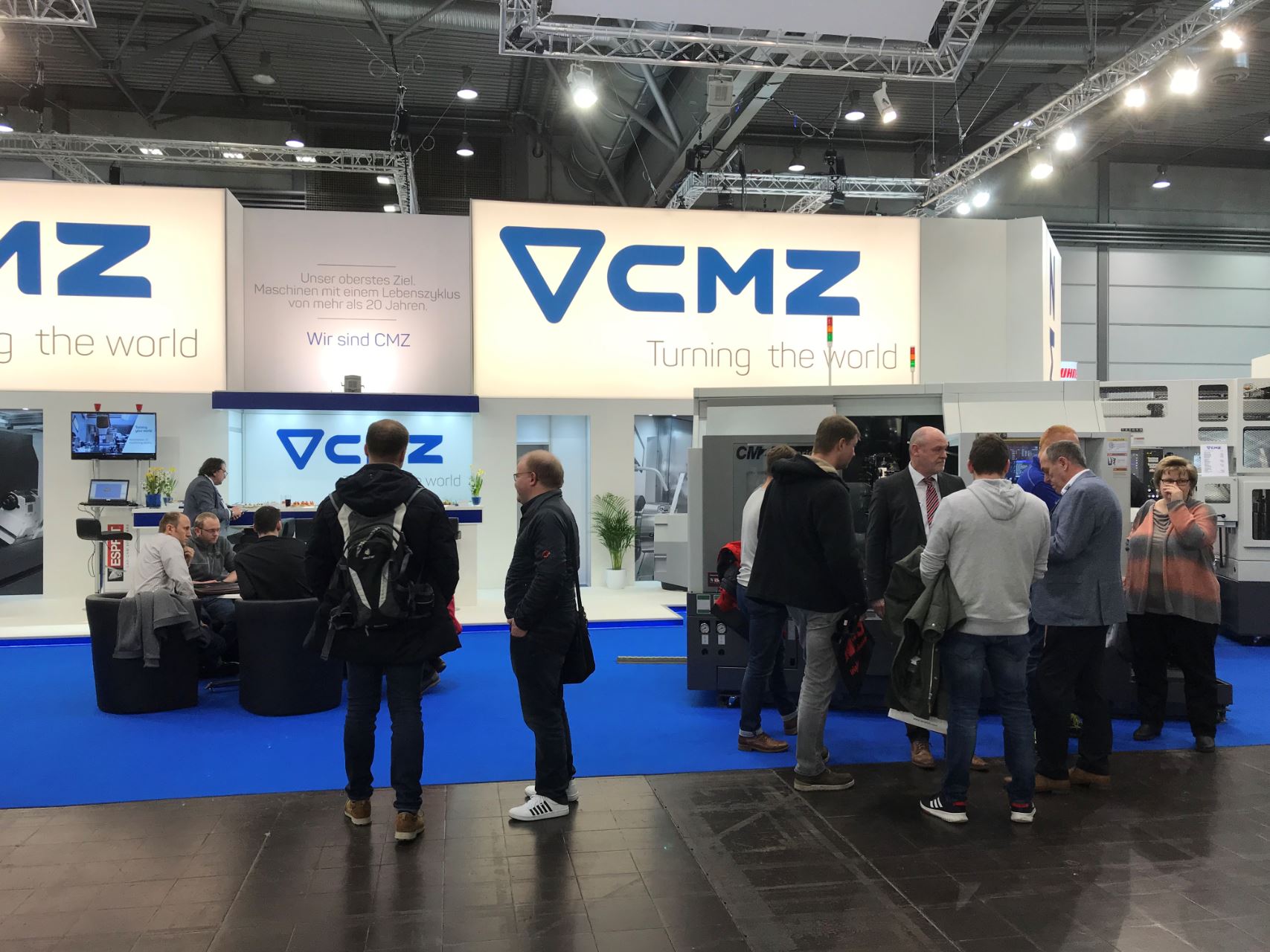 Our stand at Intec 2019 was a clear reflection of our new corporate image. Flaunting CMZ's characteristic blue, we constructed a stand where CNC lathes were the main stars.
We took 4 precise, powerful and reliable machines. From the TA series, there were two CNC lathes present at Intec: a TA 20 TY, one of our best-sellers, and TA 20 Y S with Gantry for those who need to automatize their short and long series.
The TD series was represented by a TD 30 YS, a favourite of many of our clients.
Big DOESN'T mean slow
As we've been telling you, for some time now CMZ has widened its range of products by manufacturing lathes with benches of 2 and 3 metres between spindle and tailstock for machining large-size parts. All lathes from the TD Series are entirely produced at Seuner, the assembly plant that CMZ owns in Mallabia. Facilities of more than 10,000 m2 equipped with the latest technologies and developments for manufacturing high-quality CNC lathes for large parts machining.
At Intec, we featured a powerful TD 45 Y 2200. This machine made a great impression on those who came to our stand and it generated a lot of interest, mainly from companies in the aeronautical and oil and gas sectors, due to the demands involved in manufacturing their products and the large dimensions of their parts.
There are many technical features that reflect the power and quality of our large-scale lathes. With the Z2200 and Z3200 models, clients who come from using other brands can say goodbye to obsolete spindles with reduction boxes. 12,000 rpm/105 Nm/13 KW… the numbers speak for themselves and our machines have integrated high torque and power.
We love trade fairs
At CMZ, our machines are on tour for yet another year, and we are going to be present at the main European trade fairs in the sector. Historically, we have always considered attending this type of event essential. Not only are they a magnificent showcase for showing the world the high quality of our CNC lathes, but they are also a place to meet clients, suppliers and friends. We always take something interesting from every trade fair: new collaboration synergies, significant orders, agreements with suppliers... Machine tooling fairs are the perfect setting to sew and to soon reap the fruits of our work.
We have dedicated a lot of time, effort and resources to organizing the showcasing of our CNC lathes in Germany at Intec 2019, and we can safely say it was worth it. We'll be back!