As we have already mentioned on our social media, we have started the year immersed in new projects. So much so that we hadn't yet had the chance to come here and share them. We are still working on it and, bit by bit, we will tell you all about our news. One of the events that we opened 2020 with was the Jobs and Company Presentations Day – or JEPE. It took place on the 6th February at the San Marnés Stadium and it was a great success. Let us tell you all about it.
Fostering talent
These types of activities are our favourites. We identify very strongly with all of the schools, institutions and agents that pull out all the stops to foster talent in students. It is they who are the future and the present of all of the companies that make up the business community and sustain our economy.
Meeting point
For CMZ, as manufacturers of digital control lathes, it is fundamental for us to be an active part of these initiatives. JEPE is the ideal meeting point for industry and students of the School of Engineering of Bilbao. Thanks to this event, we were able to present the reality of CMZ and our day-to-day work to all of the students who are wondering which career path to take to begin developing their career.
And it seems like the students weren't the only ones who benefited from it. Far from it in fact – fora such as this allow companies to get closer to them and let us get to know the students in a way that's more personal, real and direct.
New format, great choice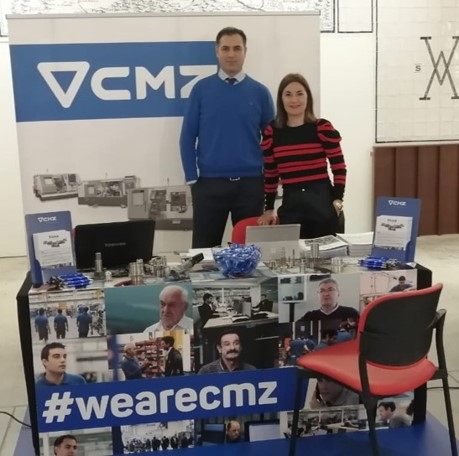 Unlike other years, on this occasion the event was condensed into just one morning. In previous years, the fair had been held over an entire week. However, that system forced students to choose between their classes and some of the presentations. Because of that, the organisers at the School opted for this excellent format that has turned the event back into a Jobs Fair, where the students can approach all of the stands they want to.
There were around 50 companies that took part in the JEPE. Our colleagues, Mikel Noguerol, Production Manager, and Mónica López, Recruitment and Selection Manager, couldn't have waved the flag higher for the company.
Having the stand full of students interested in finding out about our day-to-day work is the best reward our human resources department could receive for their efforts, and who knows, perhaps it will be the start of a beautiful and prosperous working relationship with all of the interested candidates.