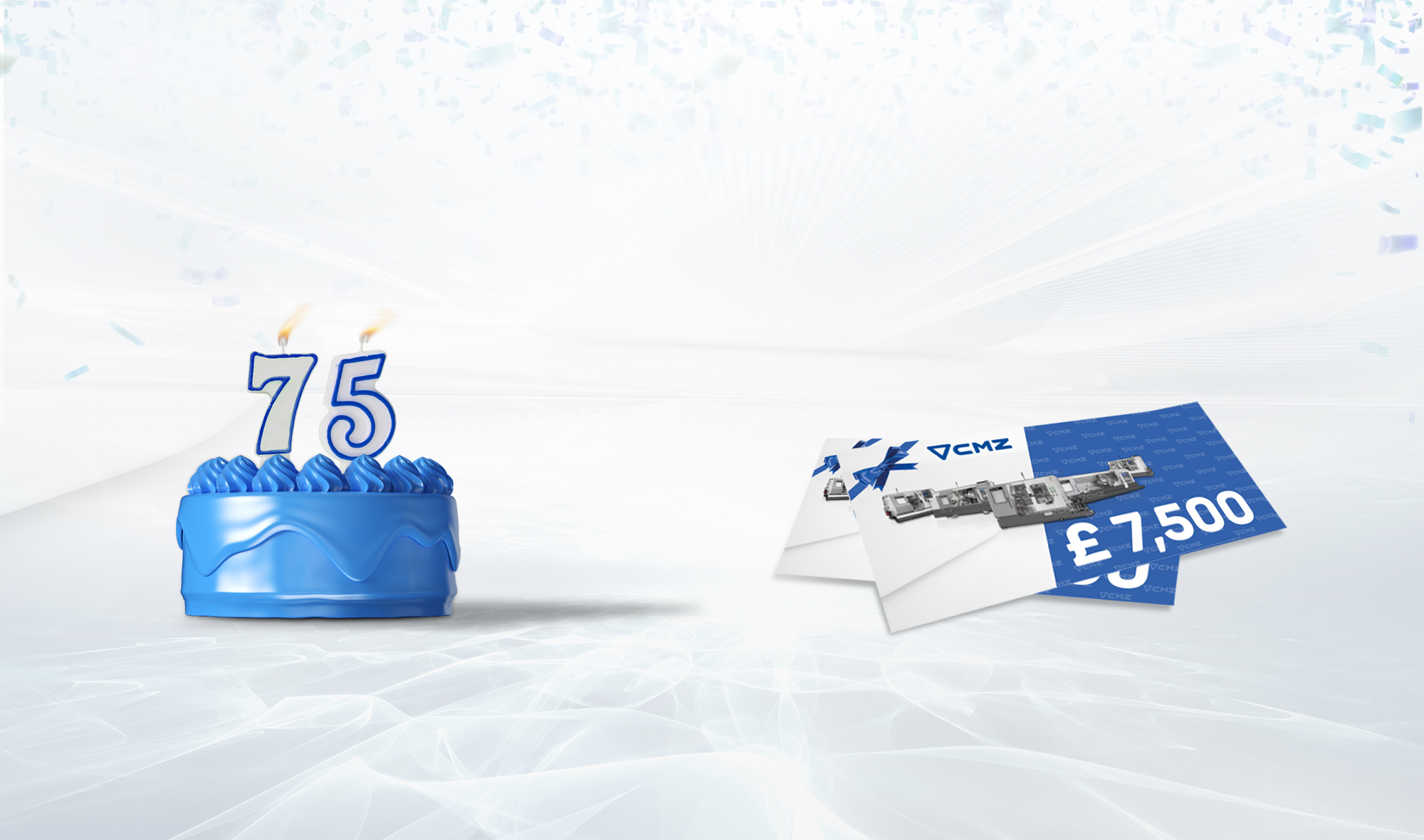 75 YEARS OF HISTORY
THANK YOU FOR CELEBRATING IT WITH US!
VOUCHERS SOLD OUT
Thanks!
75 years are not fulfilled every day. Sadly, due to the pandemic, we have not been able to organise the event we had so dreamed of to celebrate CMZ's 75th birthday. However, this promotion has been a success. Thank you for making it possible!
TOO LATE:
THE CMZ 75 YEARS VOUCHER HAVE SOLD OUT
Those who have redeemed it have obtained a direct discount of £ 7,500 against the purchase of any machine in our product range before 31/1/2021. Unfortunately, we are unable to extend this unique offer again. What we can do is keep you updated on our next campaigns…
FREQUENTLY ASKED QUESTIONS
What is the CMZ 75 YEARS VOUCHER?
This voucher is our way of celebrating our company's 75-year history with you. With this promotion we are giving away a total amount of £ 562,500 . It is an online voucher that you can download on this page and will give you a direct £ 7,500 discount towards the purchase of any new CMZ.
Who can get the CMZ 75 YEARS VOUCHER?
Any person or company that is about to formally purchase a CMZ numerical control lathe before 31/1/2021. The quotation must be configured after 26/11/2020.
How should the CMZ 75 YEARS VOUCHER be used?
Download the voucher from our website and contact us or the salesman in your area. When configuring your machine, with the voucher, a direct discount of £ 7,500 will be applicable on the final price of the machine. The purchase of the lathe must be closed before the end of this year.
I am interested in a used lathe, can I redeem the CMZ 75 YEARS VOUCHER?
No, you can't. This promotion is only valid for the CMZ product range of brand new built-to-order and stock machines available for immediate delivery
What is the deadline for this deal?
This promotion is only valid until 31/1/2021. You can redeem your voucher as long as you are one of the first 75 to do so.
The order must be placed before 31/1/2021, even if the machine will be delivered in 2021. Once the promotion finished, the voucher cannot be redeemed and you will fail to benefit from this deal that will save you £ 7,500 on your new lathe. 
Any questions?
We will be delighted to help you. Contact us through the form or call us at the CMZ UK office on 01788 562111.
BE THE FIRST TO KNOW ABOUT OUR NEXT PROMOTIONS
The CMZ 75 YEARS vouchers with a direct discount of £ 7,500 have flown. We will launch new promotions soon; do you want to be the first to know? Fill out this form and don't miss anything: