CMZ presents at FANUC's Open House in Elgoibar
Unity is strength, and don't we know it! As you know, at CMZ we manufacture practically all of the components of lathes CNC in plants that we own ourselves. For everything else, we like to surround ourselves with trusted suppliers of the highest order. One of those is FANUC. All of our machines use their controls, servos, etc. For us, more than just suppliers, they are our partners. That's why we did not hesitate to attend the Open House they organised last week in their premises in Elgoibar, where they included a TA machine in one of their robots.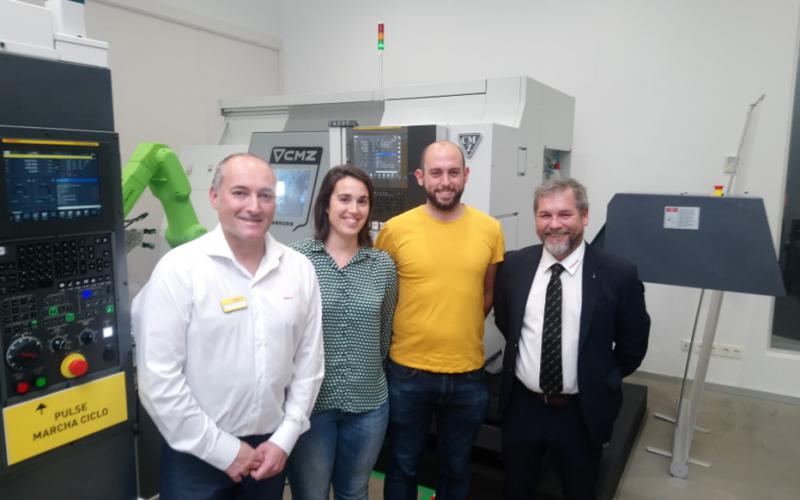 FANUC and CMZ
FANUC is the world's leading manufacturer of automated manufacturing systems. This is a demonstrable figure, since, 60 years after it was established, it has installed over 4 million CNC controls and 500,000 robots across the world. These figures are not by any means insignificant.
For us, they are a trusted supplier with whom we have been able to forge a strong and solid alliance which grows stronger year after year. This allows us to collaborate better, to optimise the final finish of our machines and, therefore, offer our customers a high quality product at a very competitive price.
Unmissable event
The Open House took place on the 19th and 20th June. All sorts of visitors came to their premises – students, customers, suppliers, friends... and all of them were very happy. During the event, they presented their series of robots, and there were various talks about collaborative and cooperative robots. They also explained the solutions they offer for the IIoT, especially the MT-Link. People who came this far were able to get front row seats for various demonstrations of these products.
Our grain of sand
When Tito from FANUC suggested we play an active role in the Open House, we did not hesitate. We gave up one of our TAs, which they incorporated into a collaborative robot. The collaborative robots are designed to work with people around them. They are highly sensitive, capable of stopping themselves with just a touch from the operator.
During the Open House, all of the machines were connected up to each other, and they were shown live on the MT-Link. This software, developed 100% by FANUC, shows the status of the machines and captures their production data. When we at CMZ found out about this system, we did not hesitate to install it in our machining plants, Precitor and Mecaninor. It helps to give us extremely precise control over what happens at every point, and to obtain very valuable production data.
It was a pleasure
Representing our company at the event was our Director of Applications, Ainhoa de la Iglesia, and the head of CMZ Academy, Julen Ruiz. They tell us that the experience could not have gone better. They described everything they saw as very interesting. On top of that, the welcome we received from the FANUC team was superb. They are keen to go back.
We believe that this type of synergy and collaboration between companies helps all of us, and it always bears fruit in real world applications. From all of us here, we would like to thank FANUC for the invitation and the trust they have put in us, and congratulate them on their success. It was a real pleasure