Plenty of news in April | CMZ, CNC lathe
We take a look back on the last few months, which could not have been more productive. There are many media sources that have talked about all of our news. We have been on the front pages and headlines of countless important sector-specific media sources both nationally and internationally which, every day, help to raise awareness of the activity of the CNC lathe manufacturer, CMZ.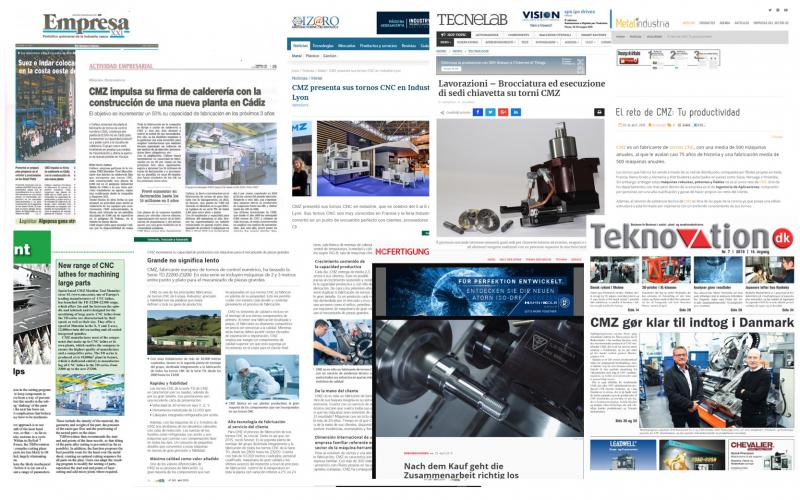 Cafisur on the front page
We had a pleasant surprise when we saw that the upcoming inauguration of the new Cafisur plant made the front page of Empresa XXI, one of the most reputed business journals in the sector. Indeed, our metalworking plant will soon expand its installations with a view to continuing with the strategic plan. With it, we aim to be able to not only meet CMZ's needs, but those of other companies too. The plant will have a surface area of 8,500 m2. It is hoped that this increase in production capacity will have a positive effect on revenue as well as the number of jobs created. In addition, the journal dedicated an entire page to us and included one of our general directors, Aitor Zumarraga, in its list of influential people in the Basque business world.
Seuner, 10,000 m2 at customers' service
Since its launch, the TD Z2200-Z3200 Series, and its little sister, the TD Z800-Z1350 Series, could not have received a better response. More and more customers are requesting large lathes for the machining of large-scale pieces. In 2015, we set up Seuner, our second assembly plant. It is entirely dedicated to manufacturing the TD Series.
Revista Tope, in both its paper and online versions, published a full-page article under the headline "Large does NOT mean slow".
Machinery Market, one of the most renowned sector-specific magazines in the United Kingdom, also included an editorial about our plant in Mallabia.
Interempresas, is another of the publications with the most subscribers, and it also wanted to highlight t the increase in our production capacity in Seuner with this article.
Newsworthy events
The Biscay publication Izaro Manufacturing Technology periodically sends out bulletins containing the most relevant news in the sector. It is an enormous pleasure for us to appear in a large number of these, with news such as our presence at fairs and events, success stories such as our customer in the United Kingdom, Metrol Springs, or more technical topics such as Broaching or Balance Cutting.
In Italy, our main market, publications such as Meccanica Plus covered the launch of our new website in detail, as well as the rest of the news that we publish weekly on our blog.
The Applications Department at CMZ is working very hard to create quality content: downloadable materials, tutorials, videos, etc., basically technical resources of interest that may be useful for any user who is looking for content about the CNC lathes. We wanted to tell the media about this initiative and we could not be more grateful for the coverage they give us on a day to day basis, and the great response that this sort of content receives from users.
In Germany, NC Fertigung published an extensive article about Polygon Turning which is currently at the top of the ranking for our applications, with over 15,000 views on YouTube.
Last month, the application on Broaching on a CNC lathe was the most viewed page across all languages, and was the most downloaded document on the website in April.
Crossing borders
Without a doubt, we cannot complain: in all of the countries in which we have subsidiaries, the media are very proactive at publishing news about our company. This allows us to establish solid and important business relationships with them. However, the good media coverage is not the exclusive reserve of our subsidiaries and central offices. Recently, we started selling our CNC lathes in Denmark through Maskingruppen. The magazine Teknovation dedicated their front page to us, as well as a long article giving an in-depth look at our company.
From this little corner, we would like to give an enormous thank you to everyone who made this extensive coverage possible: the media, our subsidiaries, distributors and more. For our part, we are committed to continuing to create relevant technical content about the CNC lathe, which are of interest to all our readers.