CNC Milling
Milling in a multi-turret lathe
WHAT IS MILLING?
Milling is a chip removal manufacturing method that mainly consists of cutting material using a multi-edge rotary tool. Performing milling operations on a CNC lathe allows the spindle's axis of rotation to be added to the other 3 movement axes of the driven tool. It also gives us the option of machining parts that need turning and milling operations in a single machine.
MILLING ON A CNC LATHE: FEATURES AND TOOL HOLDERS
The machined component in the video is part of a pneumatic clamping element that is used in industry for automation in the transfer of parts.
The manufacturing process consists of more than 20 milling operations on the main spindle and turning operations on the subspindle that are carried out simultaneously, taking advantage of the two turrets that the CMZ TTL lathe has. This process allows starting from a 50mm diameter bar and later, clamping the piece in the subspindle with square jaws to carry out the turning once the milling is completed.
In the machining process, tools range from face mills with a diameter of 50mm for roughing, to milling cutters with a diameter of 3mm that are used for finishing small radii and small grooves. The speed range of the CMZ turrets and tool holders (12000rpm) allows us to machine with a variety of tools like those mentioned.
Also, due to the high number of tools needed to machine the part (32 tools + the remnant collector), double radial motorized tool holders have been used, tool holders for 4 external turning tools and tool holders for 3 internal turning tools. The use of these types of tool holders makes programming difficult due to possible collisions between the tool holders, spindles and parts. But it is necessary when machining these types of parts with so many different geometries.
PROGRAMMING MILLING OPERATIONS IN A CNC LATHE
Previously, we shared a free downloadable document about angular milling tool that includes a programming example for machining a tapped hole requiring a tool tilted at 30°. In addition, you will discover tips and specifications to perform angular milling on your CNC lathe. With the adjustable angle heads, angle milling is possible in all our series: all single turret lathes (TA Series and TD Z800-1350 Series) as well as TD Z2200-Z3200 Series CNC lathes for machining large parts offer the possibility of carrying out this type of operation.
In the case of video, the milling is not angular. The process has been carried out on a TTL-66-66-T1Y-T2Y belonging to the range of CMZ multi-turret lathes. The TTL lathe is a 3-axis CNC machine that has revolutionized multi-axis machining. Its exclusive technical characteristics include the 8 motors integrated in a lathe that do not have belts either on the heads or on the X and Y axes. The turret is completely oil-cooled allowing continuous work at 12000 rpm. In addition, the heads reduce acceleration time by 50%. This turning centre with X3 and Z3 movements provides this CNC lathe with exclusive functionalities: it incorporates a tailstock, operates with 3 tools simultaneously and allows longer parts to be machined thanks to the reduction of interferences.
Discover all the possibilities offered by the CMZ lathes to machine complex parts.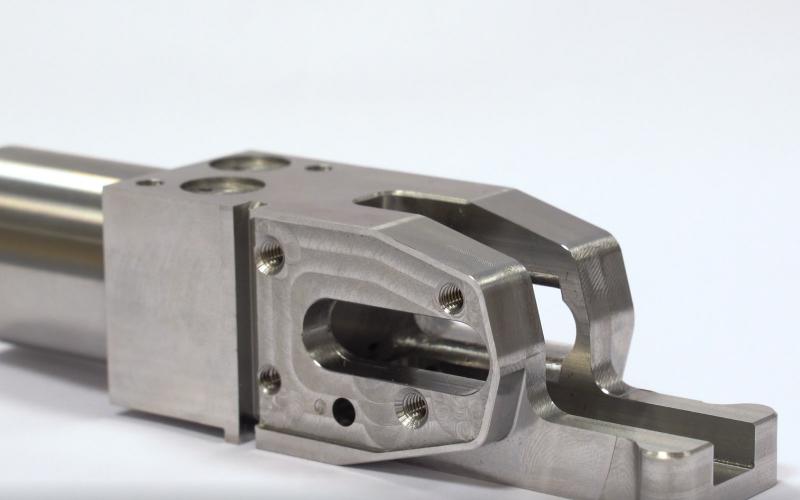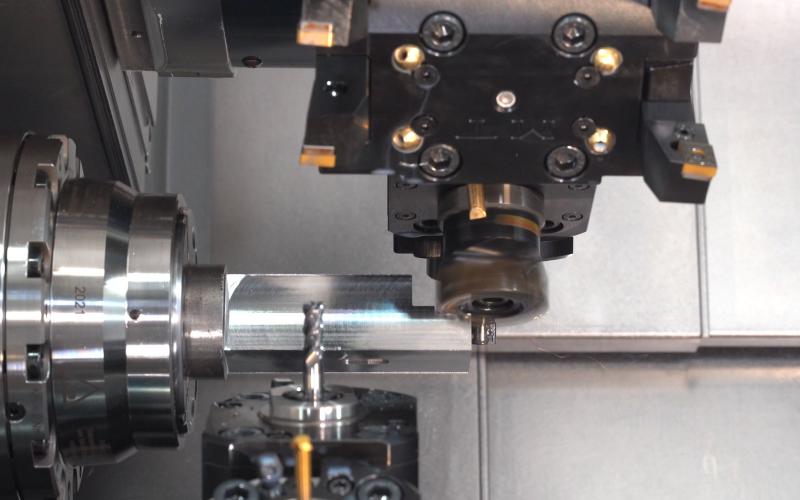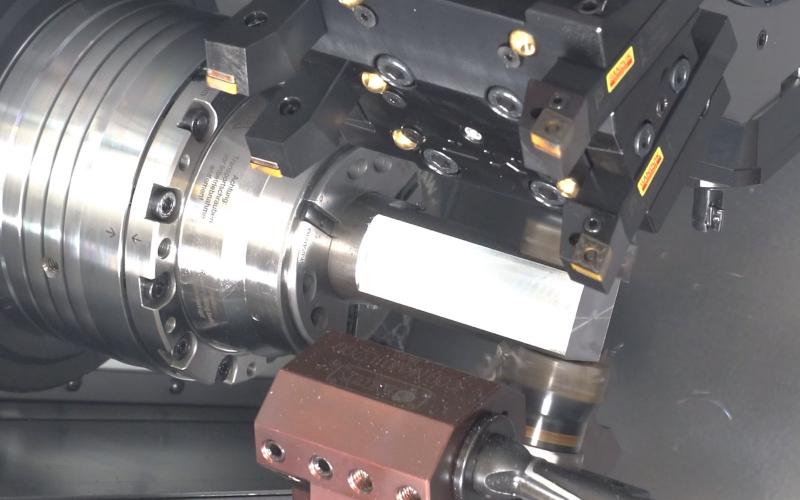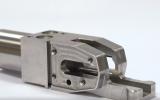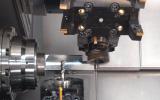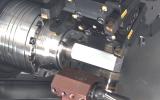 Do you need help with an application?
Our applications department can analyse in detail the process to be carried out and offer you a part study helping you to reduce cycle times.