Power Skiving
Power skiving is a continuous machining process up to 3 times faster than hobbing and more flexible than broaching. And additional advantage of this method is that allows machining close to shoulders which gives more freedom in component design.
Machining gears has always been a challenge. For years it has required a dedicated machine and an additional operation to machine the teeth in the part. However, in recent years different options for machining gears in standard machine tools have been developed.
The aim of this document is to explain the process for gear machining known as power skiving. Power skiving has been around for over a century but recently it is becoming a trend due to more rigid machines and better synchronisations between the spindles. This option not only allows to machine gears at much higher speeds (3 times faster than hobbing) but also allows to machine internal as well as external gears and gears with a very small shoulder, something that hobbing would not allow.
Power skiving requires a special toolholder as well as a custom-made tool. The machine used for this application also needs to have Y axis.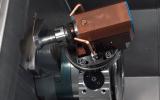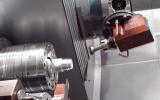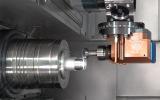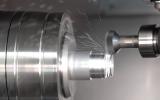 Do you need help with an application?
Our applications department can analyse in detail the process to be carried out and offer you a part study helping you to reduce cycle times.