Tips and solutions to improve the performance of your CNC lathe
Prevention is always better than cure. Our technical support services are clear about this and that's why they've carefully designed their range of plus services and maintenance contracts. All these options are aimed at the preventative maintenance of your CNC lathe. With them you'll be able to prolong the service life of your CNC machine and increase its performance considerably.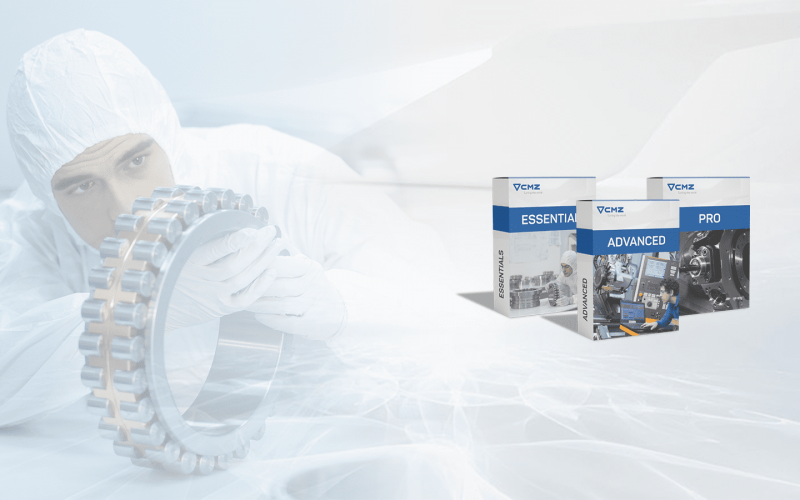 Main advantages of maintenance contracts
Our maintenance contracts are the result of years of listening to customers and close contact with them. The three products (Essentials, Advanced and Pro) are based on predictive maintenance and their ultimate aim is to avoid machine stoppages and to minimize manufacturing defects. Our exhaustive control list guarantees the detailed inspection of the lathe. The CMZ maintenance contracts take into account the substitution of basic consumables to optimise the lathe. All 3 options provide a detailed inspection followed by writing a detailed report. Each contract has discounts of up to 20% on additional services and spare parts over the life of the contract.
Immediacy is essential and that's why all the contracts give the customer priority, both when faced with a machine stoppage and for telephone assistance. Another important aspect of the CMZ Support Service is that telephone assistance is free. This service is directly managed by after-sales engineers with extensive, in-depth knowledge on the subject matter. Thanks to this professional and customized advice, the customer can obtain quick and effective solutions.
Maintenance service offers
The range of possibilities is very extensive. Below, we're going to try to collect together the specific services which are often requested of our specialists:
CNC programming courses: The pandemic has paralyzed in-person training. Until complete normality is re-established regarding the health situation, we can't resume them. However, our customized online courses are a magnificent alternative. Four hours of customized training in groups of up to 5 people where the students set the pace and the content to be covered.
Reconditioning of second-hand lathes:Sometimes, customers contact us who have bought a second-hand CMZ lathe which requires a proper inspection. With our second-hand machine fine-tuning service we restore the performance of the machine back to 100%, maximising precision and productivity. 
Factory repairs: We have more than 32,000 m2 of facilities to carry out all kinds of complex repairs. Within this service, the exchange of headstocks which minimise downtime with maximum precision is worth mentioning.
Spare parts and kits: We have different scrapers, wipers, belts, relays and batteries, fans... The benefits of this kind of kits are multiple, among which their reduced cost, extending the lathe's service life, increased safety and less breakdowns stand out. The system we've created allows us to fill the spare parts order the day after receiving it. Our stock availability rate is over 97%.
CMZ Store: Our online tool store is open 24 hours a day, 7 days a week. Through this it's possible to shop at the click of a button. Comfortable, fast and economical.
Maintenance PLUS services: Your lathe at its highest level
Our rallying cry is "Long life to your CMZ!" and the way of achieving this is our Plus Services catalogue. We make machines with a service life cycle of more than 20 years. The premium maintenance services optimize the lathe's functioning and take it to the highest level. In addition, until 31/10/2021 you can access them with some very special conditions, thanks to our maintenance plus services promotion.
Automatic door integration: This option is programmable and significantly improves the operator's experience of using the machine. It's also very interesting for machines which work with an external robot.
Barfeeder interface: Repetitive machining in high production usually requires a barfeeder. We can configure its connection to your CMZ or advise you about acquiring a new one.
Robot Interface: Our machines know perfectly how to deal with all kinds of anthropomorphic robots. The universal integration interface for robots is a solution which will significantly improve the efficiency of your CMZ.
Software updates: The software constantly updates itself. This updating will allow you to benefit from advances such as tool load monitoring.
Spin window: Available for many models of our CNC lathe range. It enables a clear view of what's happening inside the machine, even when the coolant comes into play.
Measuring probe: One much recommended option to measure the progress of the piece in progress and optimize it without having to carry out an independent inspection.
Additional refrigeration, cleaning and air options: With these extras, removing the remaining shavings is cleaner and more effective. Small details which improve the process execution.
Fanuc memory extension: This plus service increases the memory capacity and thus allows a greater storage capacity.
We could continue writing about this endlessly, without explaining in detail all the services of our department. If you're considering optimising the performance of your CNC and you don't know how, we can help you. Give us a call?