All the good things that happened to us in 2020
We embrace the end of this atypical year, 2020, whose main milestone has undoubtedly been the outbreak of COVID-19. This log cannot leave out such a transcendental event in its usual annual analysis because, to a greater or lesser extent, this pandemic has changed all of us somewhat. What we can do however is see the glass as half full, because, fortunately, over these last almost 365 days, we have also experienced some unique situations and moments. And that's what our annual review is about: everything good that happened in 2020 at this CNC lathe manufacturer, as it takes a look back today and remembers the best bits.
When exhibitions and events were possible...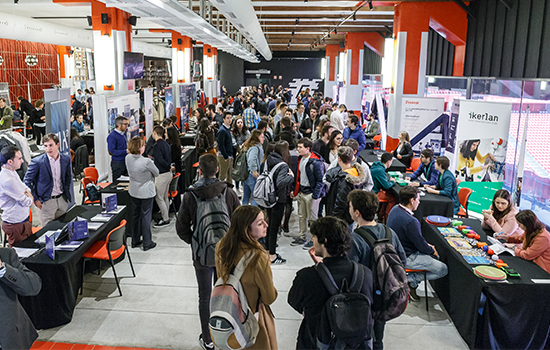 Although it now sounds like science fiction, there was a time when crowded events were the order of the day; an era in which getting a large group of people together in one place was neither reckless nor illegal. Back in those days, masks were not an extension of ourselves and, at most, we had pronounced the word "lockdown" twice in our entire lives. Although in March the world started grinding to a halt in phases due to COVID-19, up until then we were able to enjoy two events that we remember today with a pang of nostalgia, but with the certainty of knowing that all of this will pass, and we will meet again.
The Jobs and Company Presentations Day (JEPE 2020) was our first foray with the crowds. Many students attended the event, which is the ideal meeting point between industry and students of the School of Engineering of Bilbao.
SAMUEXPO was our first and only exhibition of 2020. Pordenone, in Italy, was the perfect backdrop to show off our range of products, including the TTL, our latest turning centre for high production and precision turning.
Seuner: ON Bizkaia Award for Best Spin-Off Development
We ended the month of February on a high: collecting the price for Best Spin-Off Development awarded by Beaz. Of the 417 projects presented, Seuner Fabricados was selected and given the award for the Best Spin-Off Development. This recognition was granted to projects supported by the regional programme for the creation of new companies in the last five years.
#stillturning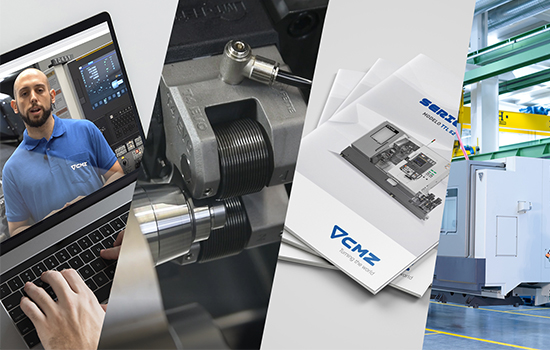 Everything happened very quickly, the pandemic broke out, and every country in the world was falling like dominoes to a greater or lesser degree. The planet kept on turning, but everything seemed to have stopped. This grinding halt affected every field, and the manufacturing industry was not exempt. 
We decided to come to terms with the situation, make decisions and look forwards. Many of our plans for the year slowed down, some of them were put (temporarily) on the shelf, and others were repurposed.
We launched our campaign, #stillturning. We kicked off our stock machines section. In it, customers can see in real time the different configurations and models of the machines available for immediate delivery. This page is updated in real time based on the inventory.
Our particular way of dealing with the new reality produced by COVID-19 made us put our skates on when it came to applications, with a roll-out of videos and downloadable files with tips and functionalities. Applications such as thread rolling, driven tool capability and parting off with y axis have delighted many mechanically-minded people eager to see the CNC lathes running at full performance.
And then, we moved!
The last few bars of 2020 have brought joy. In October, Cafisur completed its move to its new 16,000m2 plant in the Tecnobahía Technology Park Despite the situation, we decided to stick to our road map and press on with the strategic plan. This move means a significant increase in production capacity for our industrial sheet metal company.
Cafisur begun its activity in 2016, focusing fully on the production of the bodywork and the sheet metal components of our lathes. After 4 years of activity, the Cádiz-based company had reached the capacity limit of its 3,000m2, plant that it used to occupy on the El Palmar industrial estate in the same town.
The surroundings could not be better to achieve the goal we have set ourselves: to increase production by 50%, to reach a turnover of €10 million in the next 5 years.
We are 75 years old
What a year 2020 turned out to be to celebrate a company's birthday. You don't turn 75 every day. There was no party, no events, no big celebrations; now is not the time. We did want to celebrate it in a special way: with the CMZ 75 YEARS VOUCHER. The birthday coupon, which can be downloaded online, is redeemable until the 31/12/2020 and is worth a €7,500 direct discount on the purchase of any CNC lathe, either new or from our stock. Unprecedented times produce one-off promotions. Shall we celebrate?
A prize for everyone: Aitor Zumarraga, Best Basque Entrepreneur
The icing on the cake has been winning a prize that was as prestigious as it was unexpected. At the 29th edition of the Evening of Basque Business, organised by the Basque Business and Companies Foundation, on the 23rd November, tribute was paid to the career of Aitor Zumarraga, who was named Best Basque Businessman 2019. This award implicitly bears the name of the more than 300 people that make up our organisation.
It seems that formulae and recipes applied by CMZ, and based on good judgement and tenacity, as Zumarraga himself recognised in his acceptance speech, really earned him this prestigious prize.
At the Gala, all of the health measures in force were strictly respected. Masks were everywhere at the event, and they highlighted more than ever the pride and emotional shine in the eyes of all of the award winners and attendees.
Bye bye 2020!
And thus we reach the finish line of this unusual year. Just like on the social networks, we wanted to show all of the good things that have happened to us in 2020 which, fortunately, and given the situation, have been considerable. On the horizon we can glimpse new projects, dreams, stumbles and lessons to be learned. If we have learned anything, it's that everything can change, and it's not the strongest that survives, but the one that best adapts.
That's it for our review of the year. We say goodbye to the year feeling grateful, and hoping, like everyone else, that 2021 sweeps us away (in the best sense of the word) as soon as possible. The best is always yet to come, now more so than ever.