2022: when the world started turning again
How ironic. We've spent years proclaiming our war cry #turningtheworld, and that world suddenly stopped. These last few years have been full of changes, in which we have yearned for the everyday and we have had to reinvent ourselves and adapt to the circumstances. And, finally, the world has started turning again. 2022 has brought us to the top. It has been full of milestones, it has given us everything, but it also takes with it some very important things that will always be eternal. In this review of the year, we will tell you how we gradually made our world turn again.
We started the debut year...
One of our objectives was continuous and sustainable growth and, to start the year with the bar high, Neoprec, our machining plant with over 8,000m2 of surface area, began supplying the assembly chain for our lathes CNC. It is equipped with FMS capable of producing with no human intervention for over 48 hours, and managing 1,752 pallets.
We have bet big, because the aim is ambitious. In a period of 5 years, we aim to double the current manufacturing capacity and be capable of delivering 800 CNC lathes per year. In order to do this, we just have to get up to cruising speed and, for the moment, we are going at full sail with a tailwind behind us.
...and we kept beating records
If the bar was already high, we managed to raise it even higher. €85 million higher, to be precise. In 2021, we managed to beat our own record by achieving the best turnover figure to date in CMZ's history. €85 million in turnover, with 515 machines delivered, that's 6% higher than in 2019.
Bit by bit, our world started turning, and what a way to do it! With the target set at €100m in turnover between now and 3 years' time, with a year-on-year increase of 6%, we expect to break records again next year.
In constant search of talent
In order to keep moving forward, it is necessary to surround yourself with talent. Here at CMZ we are firmly committed to training and bringing on board new talent into the company, and we want to turn the industrial world into an accessible destination for all. As a result, we have opened the doors of our house once again to hundreds of students, who have come to meet us. Furthermore, we haven't missed the appointments that we considered unmissable before the pandemic.
Several events took place at the beginning of February. Among them were the Technological Innovation Centres and Companies Presentation Days, and the Jobs and Companies Presentation Day (JEPE) at the School of Engineering in Bilbao. In addition, the Miguel Altuna Centre invited us to experience another dimension.
In the middle of March, the 3rd Industry Day was held, as part of the Erronka Industry Programme. The main objective was to introduce students from Biscay to the industrial sector, with 28 educational institutions in attendance, who were able to meet various industrial companies, CMZ among them.
Months full of events that remind us that they are the future!
Awards that give us a shot of energy
In May, another impressive piece of news arrived. CMZ received recognition in the 5th annual National Technology Awards as the best Industry 4.0 company. The prestigious award acknowledged our track record of more than 75 years' experience as CNC lathe manufacturers.
It is a prize that bears the name of over 450 people. Iñaki Zumarraga, Managing Director of CMZ, dedicated the award to those he acknowledged as the real architects: the employees. Furthermore, he made the most of the occasion to issue an appeal to institutions, highlighting the importance of adapting education courses to the real needs of companies.
Enrique, always eternal
When a friend leaves us, it's impossible for silence not to reign. In May, our colleague Enrique Lucas passed away unexpectedly and, since then, we have had our hearts and our gaze turned towards heaven. An indisputable leader of change, his grit and courage raised CMZ's prestige to the top during the many years he spent with us.
We thought the world had started turning in our favour, but in life sometimes things also turn upside down. And this, without a doubt, has been the worst blow we have been dealt in 2022. Not a day goes by that we don't remember him, his way of doing things and his tireless work ethic.
Enrique, you will always be with us.
We published the second issue of CMZ Magazine. Yes, you read that right.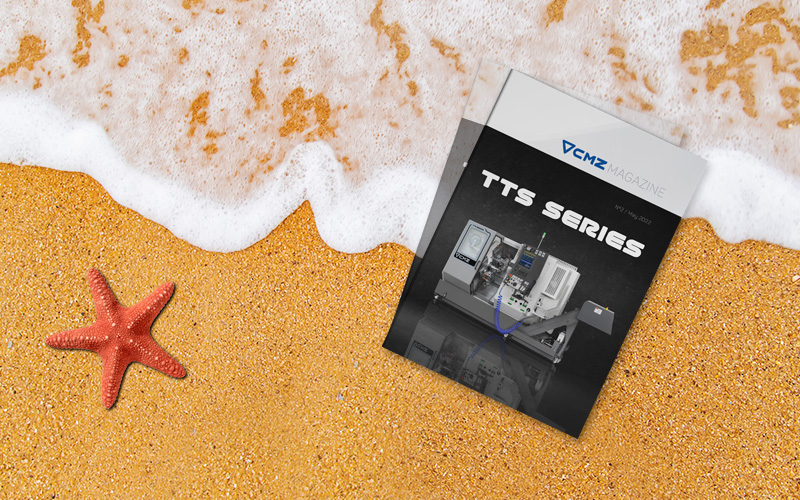 It sounds surprising, doesn't it? So that you weren't left without any reading material this summer, after a long wait, the second issue of our corporate magazine, CMZ Magazine, arrived. In it, we shared various pieces of news, including the most cutting-edge applications with their programming tips, the figures from 2021, keys to new projects, and more.
CMZ Magazine is available in online format so that, even during these Christmas holidays, you can find out our latest news. We hope the third issue won't take as long to arrive as the second one did, but you know what they say ... good things come to those who wait!
We strengthened our presence in the United Kingdom
Thanks to the commercial agreement with DTS UK LTD, our new digital control lathe distributor in England, we reinforced our commercial presence in the United Kingdom. This is a new strategic partner, who will provide services to Scotland, all of the North of England and the Midlands.
DTS is a company specialised in machinery, with extensive experience in the sector, which will support CMZ with the aim of meeting the needs of its customers and increasing its market share in the United Kingdom. We are sure that this is the start of a long road full of success!
Over 2000 machines sold and an unforgettable experience
This would be the best way to sum up this great news. In July, we reached the figure of 2000 machines from the TA Series sold, and we didn't want to miss the chance to reward those who have helped us reach that milestone: our customers.
As a result, we prepared a package that included an unforgettable experience: the CMZ Box. In it, we expressed who we are: our home, our culture, our cuisine, our passion and our city. The winner of the prize draw was FABBRICA D'ARMI PIETRO BERETTA S.P.A, and we are looking forward to opening our doors and enjoying an unforgettable weekend.
Thank you for helping us reach this figure. Here's to another 2000 TAs!
We carried on sharing knowledge
We put a lot of care and effort, month after month, into showing you the best of our applications department. This year we have shared with you some of our knowledge in applications such as machining super duplex, probe measurements and oscillation cutting. It is something we like doing, and the reception we receive from you is very satisfying. It means that every effort has its reward.
Time goes by and you still love our videos just as you did on the first day. This year we have created a Top 3 so you can refresh your memory with the CNC lathe applications that have had the most success over the year. Don't miss them!
More automated than ever!
We had been waiting for a long time and now it's here. In November, we launch our new catalogue, full of infinite automation solutions, available both in physical and digital format. In it, we have tried to compile some of the automation solutions we can offer here at CMZ.
A simpler, faster and more economical solution than anthropomorphic robots. Our range of Gantry Loader solutions covers a full range of pieces, from the smallest up to 50kg. It is 100% configurable, and it adapts to the machining needs of any type of production process.
Get it now and automate!
3 days to remember: CMZ Italia 10 Anni
The 9th, 10th and 11th November this year will always be remembered with nostalgia and happiness. CMZ's Italian subsidiary celebrated its 10th anniversary by organising a crowded event where attendees were able to enjoy a large showroom of CNC lathes. There was time for learning with various technical workshops.
It was an event marked by excitement. Since the beginning of 2012, the Italian subsidiary Magnago has experienced impressive growth, achieving figures such as the 26.7 million euros' worth of CNC lathes delivered in 2021.
Of course, they hope to exceed those figures in the coming years. Here's to another decade!
And now... to keep on turning!
It has been a year full of emotions. We didn't know what 2022 would bring us and, honestly, the reality has surpassed fiction. We have been able to beat our own records, sell over 2,000 CNC Lathes, celebrate our 10th anniversary in Italy, and carry on sharing knowledge. And all of this in just 365 days.
We have needed 365 days to get back on track and, in our own way, make the world keep turning. Sometimes, when you least expect it, things get turned upside down, but with our hearts and our gaze towards heaven, we have decided to keep going forwards. A year in which we've learned, we've laughed, we've cried and we've managed to surpass ourselves.
Now, definitively, we can say loud and clear that we will keep on #turningtheworld with you.
We look forward to seeing you, 2023!